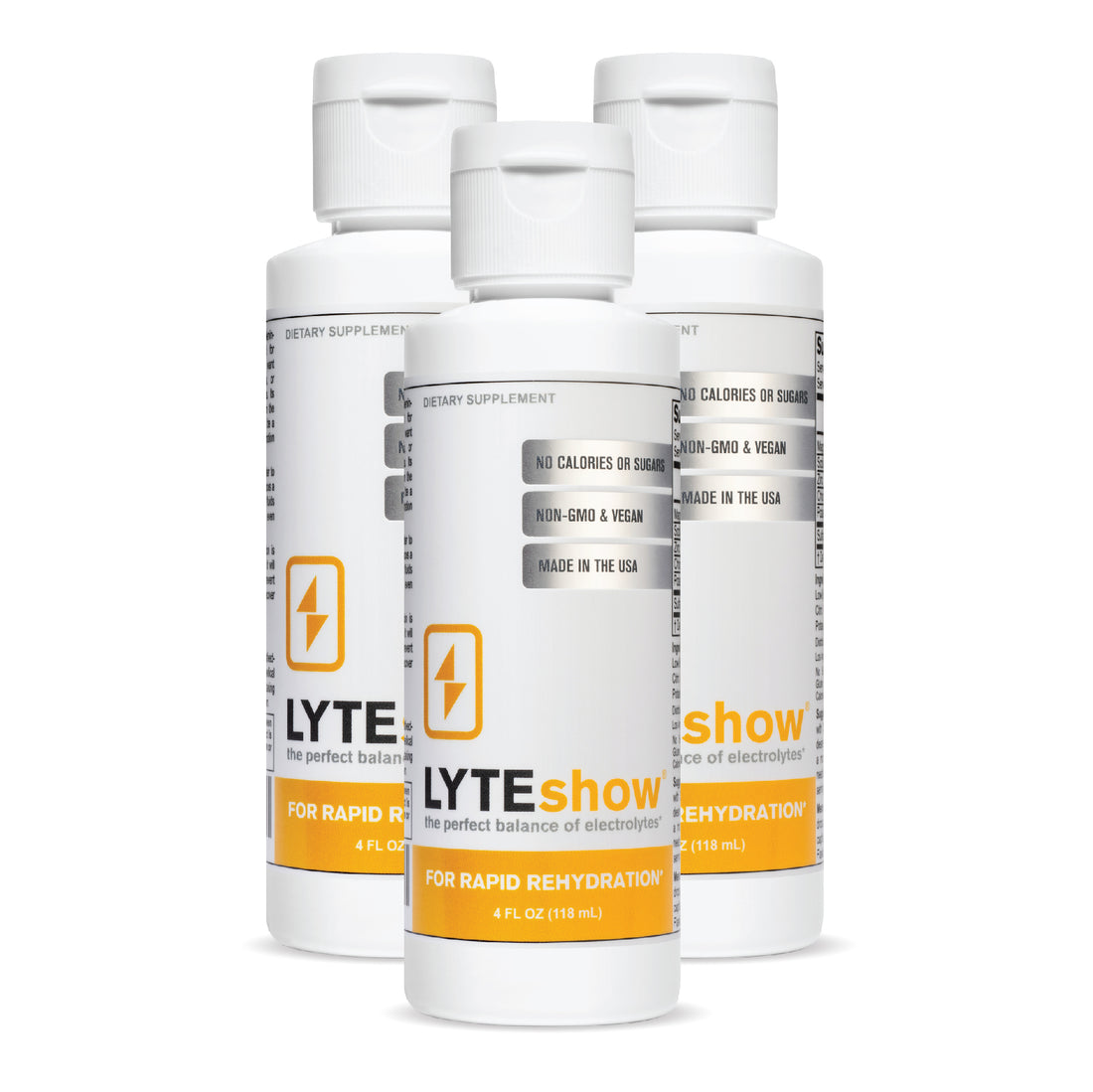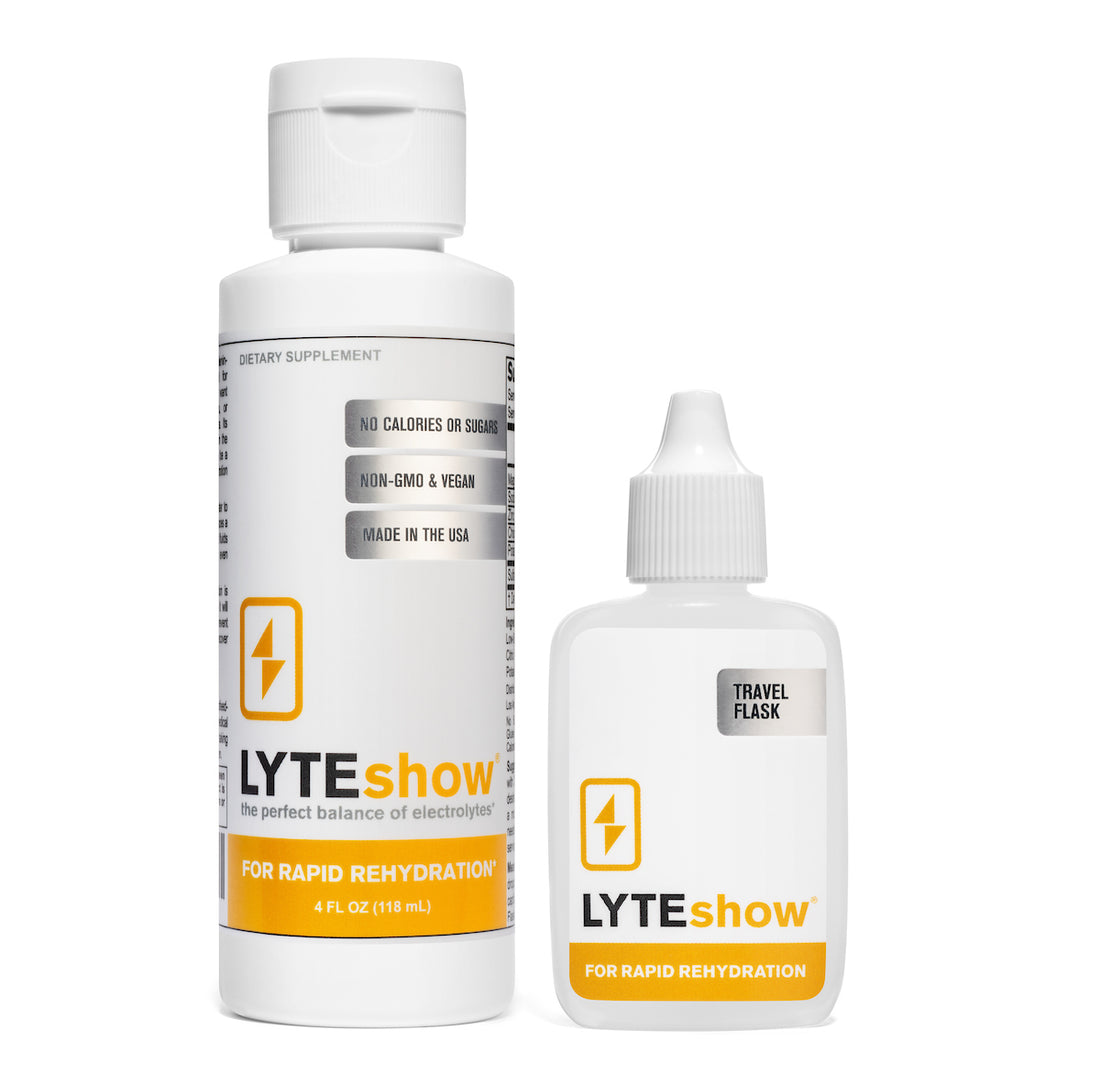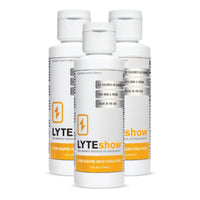 LyteShow 4 oz. Bottles (3-Pack)
Product Details
LyteShow is an electrolyte-replenishing, liquid concentrate created specifically for health-focused people who don't want unnecessary additives in their electrolyte products. Just add one serving of LyteShow to 32 oz. of water to create an isotonic beverage that rapidly replaces electrolytes and fluids lost from sweating, exercising, or even drinking alcohol. It is made in the USA and is non-GMO, gluten free, vegan, and Whole30 Approved. 
Instructions
Suggested Use: Mix 3 mL of LyteShow with 32 ounces of water and enjoy. If desired, decrease the amount of water for a more concentrated mixture. Take as needed for hydration, but do not exceed 8 servings in a 24 hour period.     
Measure: 3 mL equals approximately 40 drops. 0.6 teaspoon, or 1 Travel Flask capful. To easily get 3 mL, fill the Travel Flask cap to the very top with LyteShow.
How LyteShow Works
Ingredients include balanced ions of magnesium, sodium, chloride, and potassium. Also contains zinc, an essential trace element, and citric acid. LyteShow contains no calories, sugars, sweeteners, carbohydrates, artificial colors, flavors, or preservatives and is non-GMO, vegan, vegetarian, and gluten free.
Why Electrolytes?
The fluid part of our body contains a combination of water and dilute solutions of electrolytes. Electrolytes perform a number of critical functions in the body including: 1) powering water absorption; 2) regulating fluid balance within the cells; and 3) assisting with proper brain function, energy conversion and metabolism. An imbalance or inadequacy of these elements can result in impaired cognition, muscle function, and nerve transmission. Adding LyteShow to water rehydrates the body and replaces critical electrolytes lost from physical activity or sweating so your body can return to its natural balance.
How Does LyteShow Differ?
Not only do most sports drinks contain calories, sweeteners, and artificial additives, they often only include one or two types of electrolytes (usually sodium and/or potassium). LyteShow puts a lower emphasis on sodium - readily available in the American diet - and emphasizes magnesium, an essential electrolyte which is often omitted from sports drinks because it is more expensive. Magnesium is critical for all energy conversion, muscle function, and nerve conduction and also assists other electrolytes in arriving at the proper place and function. We take great pride in our balanced formula of magnesium, sodium, chloride and potassium.
Our Guarantee
Feel healthier and rehydrated or receive all of your money back, including shipping. No need to send the product back. No forms to fill out. No BS. We're just a company that stands behind our product. 
Packaged Contents
Each package contains three 4 oz. bottles with each bottle containing 40 servings of LyteShow. Depending on usage, each bottle lasts approximately 2-6 weeks. Each 3-pack also includes one empty travel flask, which can be used to conveniently take smaller amounts of LyteShow with you on the go!