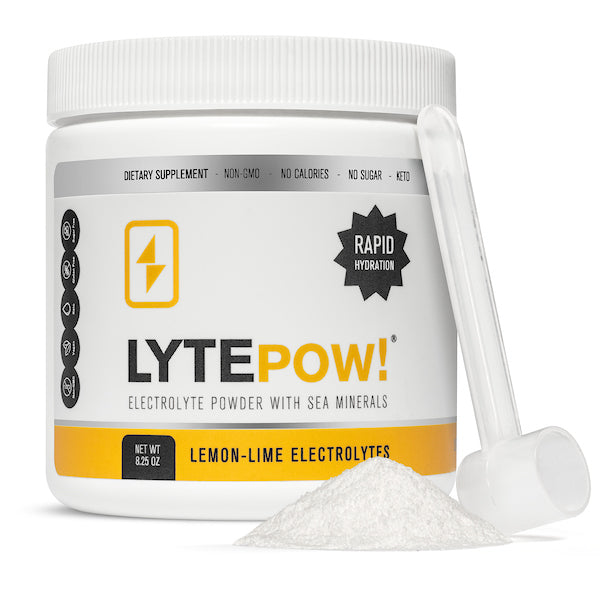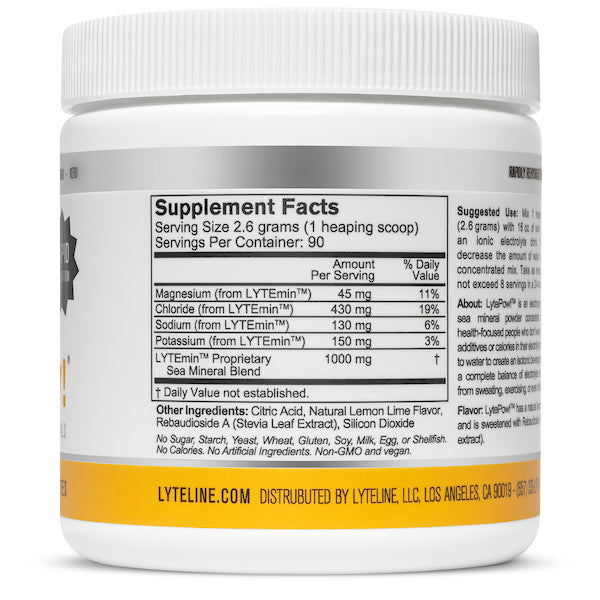 LytePow! Ionic Electrolyte Powder Mix - Lemon Lime Flavor - 90 Servings
GET HYDRATED WITHOUT EXTRA ADDITIVES OR CALORIES: LytePow! is an electrolyte-replenishing, sea mineral powder concentrate created for health-focused people who don't want unnecessary additives or calories in their electrolyte products. Great tasting, natural lemon lime flavor, lightly sweetened with stevia leaf.
RAPIDLY REPLENISH LOST ELECTROLYTES: Add LytePow! to water to create an isotonic beverage that rapidly replaces a complete balance of electrolytes and fluids lost from sweating, exercising, or even drinking adult beverages. When mixed with water, our proprietary LYTEmin Sea Mineral Blend rapidly delivers ionic electrolytes to the body, including magnesium, potassium, and sodium.
MOVE OVER BIG HYDRATION: For years, big hydration has been pushing low quality electrolytes stuffed with corn syrup, dyes, and artificial flavor. At LyteLine, we focus on high quality, rapidly absorbed sea minerals without the nonsense. LytePow! is perfect for use while exercising as it contains Magnesium, Chloride, Sodium, Potassium and our proprietary LYTEmin Sea Mineral Blend which rapidly replace electrolytes lost in sweat, prevent muscle cramps, and help you recover quickly post-workout.
JUST THE STUFF YOU NEED: You won't find calories, artificial ingredients, sugar, starch, yeast, wheat, gluten, soy, milk, egg, or Shellfish. Not to mention LytePow! is Non-GMO, Vegan, Keto Friendly, and Gluten Free. Manufactured in the USA at an NSF GMP-certified facility and always 3rd party tested for quality and safety
WATER'S BFF: Mix 1 heaping scoop (2.6 grams) with 16 oz. of water to create an isotonic electrolyte drink that rapidly replaces essential electrolytes, including magnesium. If desired, decrease the amount of water for a more concentrated mix. Take as needed, but do not exceed 8 servings in a 24-hour period.