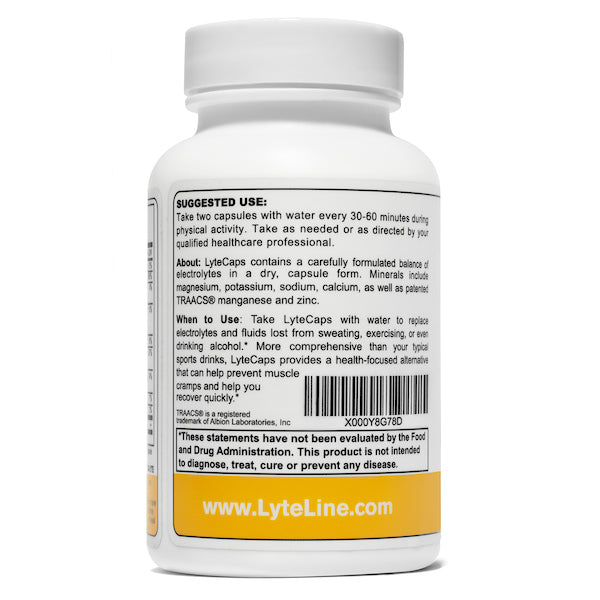 LyteCaps Electrolytes Capsules - 1 Bottle (30 Servings)
Product Details
We added this product to our hydration line-up because sometimes hauling around our liquid electrolytes, LyteShow, just wasn't possible. As always, we went over-the-top with this formulation seeking out the best ingredients for rehydrating. Ingredients include balanced ions of magnesium, sodium, chloride, and potassium. Also contains Vitamin D3 and L-Tyrosine. 
Instructions
Take two capsules every 30 to 60 minutes during physical activity with water. Take as needed or as directed by a qualified healthcare professional.
How It Works
- Take LyteCaps with water to replace electrolytes and fluids lost from sweating, exercising, or even drinking alcohol. More comprehensive than your typical sports drinks, LyteCaps provides a health-focused alternative that can help prevent muscle cramps and help you recover quickly.
- Minerals include magnesium, potassium, sodium, calcium, manganese as well as patented TRAACS® zinc.
- Contains no calories, sugars, sweeteners, carbohydrates, artificial colors, flavors, or preservatives. Manufactured in an FDA-regulated and NSF GMP-certified facility.
Why Electrolytes?
The fluid part of our body contains a combination of water and dilute solutions of electrolytes. Electrolytes perform a number of critical functions including: 1) powering water absorption; 2) regulating fluid balance within the cells; and 3) assisting with proper brain function, energy conversion and metabolism. An imbalance or inadequacy of these elements can result in impaired cognition, muscle function, and nerve transmission.
Our Guarantee
Feel healthier and rehydrated or receive all of your money back, including shipping. No need to send the product back. No forms to fill out. No BS. We're just a company that stands behind our product. 
Packaged Contents
Each bottle of LyteCaps contains 60 vegetarian capsules, or about 30 servings.